Featured Corset: Jolie Black Mesh Corset Plus Size
Depending on the model that you choose, corsets can provide considerable coverage for your torso, but there have long been options to increase the level of modesty for corsets, too, based on user preference. Not only can you choose more modest cuts and textiles to begin with — cotton versus mesh, for example — but you can also add a modesty panel for further coverage.
What is a modesty panel? What are the different types? Which option is right for you? Here's what you need to know to ensure optimal comfort and coverage with your waist training corsets.
What is a Corset Modesty Panel?
If you're interested in corsetry, you may already know that this garment consists mainly of fabric panels separated by channels that contain steel boning. The front closure of a corset features two steel busks with pin-and-loop fasteners, and the back is connected and adjusted with lacing running through grommets on either side.
The problem for some wearers is the gap that exists between the back edges of the garment. The size of the gap will depend on the sizing of the corset and how loosely or tightly it is laced. This gap could display a mere sliver of flesh, or showcase a strip of your back several inches wide.
A modesty panel, as the name implies, is an extra piece of fabric that spans this open gap beneath the corset laces, providing the wearer with added coverage, ostensibly for modesty, although many women also enjoy added comfort when grommets and laces are no longer in direct contact with their skin.
Different Types of Corset Modesty Panels and How to Use Them
You might be surprised to learn that there is more than one type of modesty panel that you can use. In fact, there are three basic types you might want to consider:
Attached or sewn-in panels
Detached panels
Suspended or floating panels
What characterizes each type of corset modesty panel and how do they work? Attached panels are convenient because they are sewn to one side of the garment, so you'll never lose them. However, this type of panel is often unstiffened, which means that it may take some finagling to get it in place when you put on your corset.
The easiest way to put it in is usually to hinge at the waist, leaning right as you drape your corset across your body, so that gravity can pull the panel into the proper position. However, you will likely have to adjust it as you tighten the laces so that it won't slip or bunch.
Detached panels are stiffened, but not attached to your garment. You'll have to place it on your back (ideally while hinging forward at the hips) and wrap your corset around it. Once you start to tighten your laces, you'll need to adjust it for ideal placement during wear.
Finally, there are suspended or floating panels. These are also stiffened, detached panels, but the laces are woven through them. This makes it much easier to put on your corset…just do so standing upright! You will still have to adjust it as you tighten your laces, although probably to a lesser degree than other panel types. The modesty panel you choose will depend on your preferences.
If you tend to be someone who is prone to misplacing things, an attached panel is probably your go-to solution.
If you don't like wearing a panel all the time, a detached design might be a better fit.
Lastly, if you don't mind a little work initially to lace in a panel so that you can save time later, go for a suspended option.
---
To stay up-to-date with weekly blog posts, waist training tips, and the chance to win one of our monthly corset giveaways, follow us on Facebook, Instagram & subscribe to our mailing list today! Want to find the perfect steel boned corset? Shop some of our favorites: underbust corsets, overbust corsets, corset dresses. You can also shop our corsets by material: cotton corsets, denim corsets, leather corsets, mesh corsets, pvc corsets, and satin corsets. Have questions about getting started with waist training or finding the right size corset? Contact us!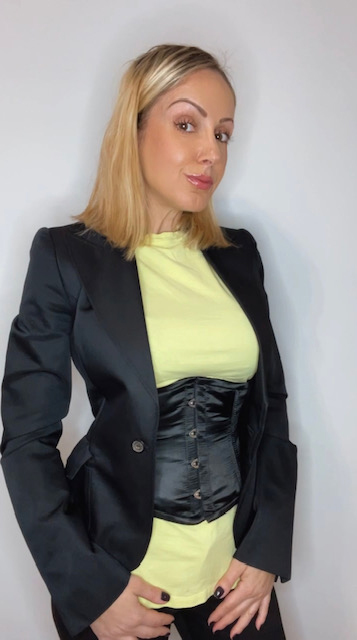 My name is Rachel, I am the owner of Glamorous Corset, a small business founded by me in 2010. Back In 2005, I was in a car accident that left me with a herniated disk. Much to my surprise I learned steel boned corsets were beneficial to several medical injuries including mine. I was always intrigued with corsetry, their history and their beautiful aesthetic. I love sharing knowledge about corsets, educating my wonderful readers and breaking the negative stigma related to corsetry. In combination with my years of research and personal experience I hope my articles are useful and can help anyone who has struggled with some of the same things I have. More about me…