If you know anything about waist training, you know it requires time and effort. You can't just strap on a tiny corset and suck in your waistline 6 inches overnight, or at least, you really shouldn't try. You're bound to end up passing out or possibly suffering some serious bruises as a result.
Women who want to seriously cinch and create semi-permanent results understand that waist training is a process. Rome wasn't built in a day, ladies, but with perseverance, you can absolutely take inches off your waistline in a matter of months with a sensible training regimen.
There's just one problem. Most women's clothing is not designed to highlight your newly-nipped waist. Even tailored shirts, dresses, and jackets won't often accentuate the exaggerated hourglass your corset creates. And yet, you almost certainly want to show every inch of your gorgeous curves. What's a fashion-conscious girl to do?
You can always add a belt to your outfit to show off your tiny waist, but this isn't right for every look. A good alternative is cinch clips for corsets. What are they and how can they make every top fall in line with your corseted waist? Here's what you need to know.
What are Cinch Clips?
The easiest way to describe cinch clips is to compare them to modern suspenders, which feature a length of elastic with a metal clip on either end to attach to trousers. Cinch clips are basically a very small version of the same basic concept, with only about 1-2 inches of stretch elastic in the middle.
The purpose of these clips is to make your garments fit better. When strategically clipped to clothing, they can cinch in the waistline of a loose pair of pants without the need for a belt, or you could use them to hold the top of your cardigan closed. Theoretically, a cinch clip could be used to extend the band size of a bra, although personally, I'm not sure I would trust it to hold.
For the purposes of showing off your corseted waistline, cinch clips could be used to tighten your tops or dresses at the waistline. Just so you know, you don't necessarily have to go with utilitarian and unattractive elastic, either. There are plenty of fashionable options that include fancy extras like filigree, sequins, bedazzling, chains, jewelry, and so on.
Your best bet is probably to search for sweater clips if you want to wear your cinch clips outside of clothing. With a little finagling, however, you could also try to hide them on the underside of garments.
What are the Benefits of Cinch Clips?
The biggest benefit of using a cinch clip is that you can make your garments look like they were tailored to fit your fabulous curves, without actually paying for custom tailoring. With decorative clips, you simply have to fold your garment and clip in the back, adding some bling to your outfit in the process.
If you want to hide a more utilitarian, elastic band, you could try clipping it to the underside of clothing, or simply cover your back with a cardigan or jacket. Unfortunately, the latter could once again hide your waist. You'll just have to go through some trial and error to see what works for your wardrobe.
---
Glamorous Corset is a NY-based company specializing in affordable, high quality steel boned corsets. To stay up-to-date with weekly blog posts, waist training tips, and the chance to win one of our monthly corset giveaways, like us on Facebook & subscribe to our mailing list today!
Source(s):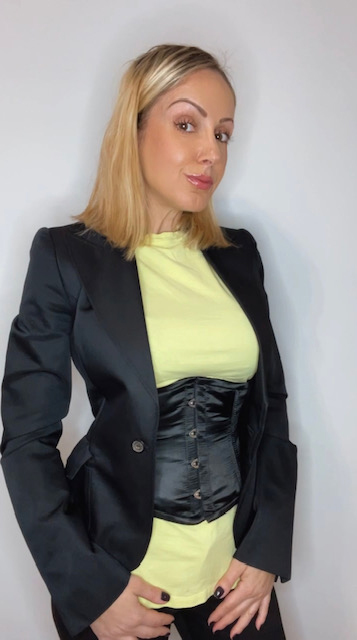 My name is Rachel, I am the owner of Glamorous Corset, a small business founded by me in 2010. Back In 2005, I was in a car accident that left me with a herniated disk. Much to my surprise I learned steel boned corsets were beneficial to several medical injuries including mine. I was always intrigued with corsetry, their history and their beautiful aesthetic. I love sharing knowledge about corsets, educating my wonderful readers and breaking the negative stigma related to corsetry. In combination with my years of research and personal experience I hope my articles are useful and can help anyone who has struggled with some of the same things I have. More about me…