Okay, ladies, let's just start by saying that corsets will not give you larger breasts.  They also won't do the dishes or cure cancer, so let's just put all that wishful thinking on the back burner. Corsets are not magic, but that doesn't mean they can't induce a miraculous transformation, especially when you commit to long-term waist training.  What corsets will do is redistribute excess skin and body fat to create an hourglass figure. What does this mean for your décolletage?  Can corsets push fat into your breasts or not?  Here's the skinny on pumping up your assets with the use of a waist training corset.
A Push-Up You'll Like
While corsets don't make breasts bigger, per se, they can give your ladies a boost. The main goal in wearing a corset is typically to cinch in the waist, creating a more defined and feminine figure that's larger at the bust and hip and smaller at the waist. In order for a corset to make your waist appear smaller, some girth will have to get pushed aside, or more to the point, soft tissue like skin and fat will get pushed up and/or down. This could create a push-up effect that makes your breasts appear lifted, and potentially more prominent, creating the illusion of a larger bust area.
Choosing the Right Corset
If you want to capitalize on the side effects of waist compression, i.e. a boost for your bust, you'll need to be selective about the corset you choose. There are a couple of things to think about. First, you'll have to decide if you want an underbust or overbust corset. Both can work, but if you choose an underbust model, you'll just have to make sure that it extends all the way to your underbust area. A waspie won't help you to accomplish your goal, and if you have excess tissue around the midsection, it could actually create a bit of a roll under the bustline. An overbust corset could be ideal, as long as you get the proportions correct. Since a cinched waist will push fat upward, you'll just need to make sure the bust sizing will accommodate your assets. Although you may like the idea of added padding at the bust, you probably don't want spillage along the top of your garment – you want a nice, smooth line.
A Note on Spring
If you're just starting out with waist training, you may not be familiar with the idea of spring. This has to do with the ratio between the waist measurement and the top or bottom of the corset. A garment with greater spring will be wider at the bust and hips, whereas less spring will make for a somewhat straighter line to the garment, or a less exaggerated hourglass shape. If you're looking to accentuate the bust, as well as the waist, consider choosing a corset with a more pronounced spring. Just keep in mind that waist training takes time, so if you're not getting the proportions you want in the beginning, continue with your waist training and you can soon size to the spring you prefer.
---
Stay up-to-date with weekly blog posts, waist training tips, and the chance to win one of our monthly corset giveaways, like us on Facebook & subscribe to our mailing list today! Want to find the perfect steel boned corset? Shop some of our favorites: underbust corsets, overbust corsets, corset dresses. You can also shop our corsets by material: cotton corsets, denim corsets, leather corsets, mesh corsets, pvc corsets, and satin corsets.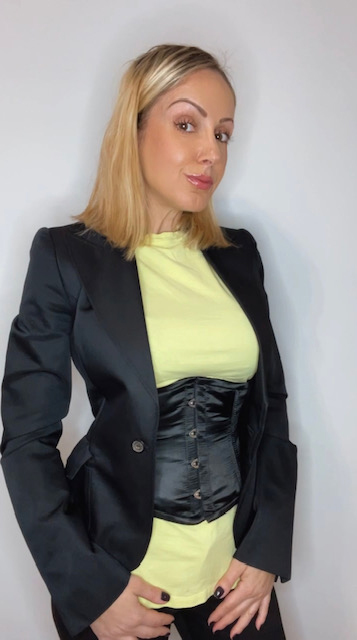 My name is Rachel, I am the owner of Glamorous Corset, a small business founded by me in 2010. Back In 2005, I was in a car accident that left me with a herniated disk. Much to my surprise I learned steel boned corsets were beneficial to several medical injuries including mine. I was always intrigued with corsetry, their history and their beautiful aesthetic. I love sharing knowledge about corsets, educating my wonderful readers and breaking the negative stigma related to corsetry. In combination with my years of research and personal experience I hope my articles are useful and can help anyone who has struggled with some of the same things I have. More about me…