Most people struggle to buy suitable, well-fitting garments for themselves, much less trying to figure out what's going to fit other people and what they're going to like.
Still, buying lingerie is a time-honored means of spicing up a relationship, and if you happen to know someone who's into corsetry, this is a truly unique, high-end gift that a loved one will probably never expect.
That said, you definitely don't want to get the wrong size and risk not only a garment that doesn't fit, but embarrassment and self-esteem issues for the recipient.
How can you go about buying a corset as a gift without truly putting your foot in your mouth?  The devil is in the details.
Costume versus Waist Training Corsets
First you need to understand the difference between costume corsetry and bonafide waist training corsets.
The most notable difference for newbies will be pricing, because costume corsetry is, well, kind of cheap.
The materials and construction are cheaper and it won't provide the cinching or support a true waist training corset will.
If you want to give a good gift, skip anything under $50. These products are unlikely to have the steel boning needed to create a snug, comfortable fit and they're likely to fall apart relatively quickly.
A good corset will cost you approximately $60-300, depending on materials, construction, and other considerations, and some custom corsets could even set you back thousands.
Custom versus Off-the-Rack
Custom corsets are obviously preferable to off-the-rack.
If you could have custom jeans designed to fit your body perfectly, wouldn't you prefer them to trying on 20 pairs and finding none that fit quite right?  Sure, but custom will definitely cost you.
It's perfectly reasonable to opt for off-the-rack corsets, but you do need to look for quality and proper sizing since altering these garments can compromise their integrity and efficacy for waist training purposes.
Sizing Considerations
This is actually your biggest concern when it comes to purchasing a corset, either for yourself or someone else.
Even buying a stretch cotton tee in the wrong size has serious ramifications – you definitely don't want to make this mistake with a corset.
There are several measurements you'll need to take, including waist size, bust size, underbust, hip size, and torso length.
A custom corset may require further measurements, but these are the basics. How do you get them?
We don't recommend drugging your intended recipient to get them on the sly, so maybe check the dimensions on a corset he/she already owns or simply ask to take for measurements for your gift.
Materials and Construction
Once you have the sizing down, you might breathe a sigh of relief, but there's a lot more to get through before you choose a corset as a gift.
You'll have to choose from a wide range of materials like leather, mesh, cotton, satin, and more, not to mention colors, patterns, and of course, models (overbust, underbust, waspie, longline, etc.).
Robust materials are preferable for the sake of longevity, as is proper construction, including a lining in cotton coutille to protect both the integrity of the garment and the sensitive skin of the wearer.
You're going to spend some serious dough on this garment anyway.  It's best to spring for proper construction to ensure your recipient gets your money's worth.
Gift Cards
If you're certain that a loved one would appreciate a waist training corset but you're agonizing over what to buy, you could always save yourself some time and trouble and let the gift recipient choose exactly what he or she wants.
Many manufacturers offer gift cards in varying increments (even via online purchase) so you can show your intentions without selecting the wrong garment.
Fit and style are so important where corsets are concerned – you might be better off simply purchasing a gift card from your favorite corset supplier.
---
Stay up-to-date with weekly blog posts, waist training tips, and the chance to win one of our monthly corset giveaways, like us on Facebook & subscribe to our mailing list today! Want to find the perfect steel boned corset? Shop some of our favorites: underbust corsets, overbust corsets, corset dresses. You can also shop our corsets by material: cotton corsets, denim corsets, leather corsets, mesh corsets, pvc corsets, and satin corsets.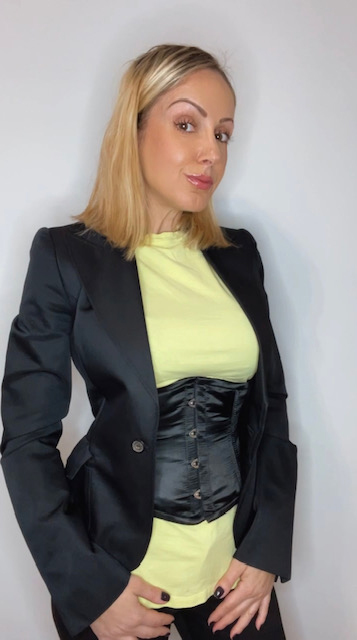 My name is Rachel, I am the owner of Glamorous Corset, a small business founded by me in 2010. Back In 2005, I was in a car accident that left me with a herniated disk. Much to my surprise I learned steel boned corsets were beneficial to several medical injuries including mine. I was always intrigued with corsetry, their history and their beautiful aesthetic. I love sharing knowledge about corsets, educating my wonderful readers and breaking the negative stigma related to corsetry. In combination with my years of research and personal experience I hope my articles are useful and can help anyone who has struggled with some of the same things I have. More about me…