Corsets come in all shapes, sizes, colors, and textiles, so that any woman interested in a svelte and sexy physique can corral her curves. However, corsetry novices might not realize that there are actually several different styles of corsets to choose from, as well, and selecting the right one can have a marked impact on the results achieved.
If you're like most women, you spend a lot of time comparing and contrasting purchases. Just think about how long you've spent in the shampoo isle fussing over sulfates and parabens, or trying to decide between clarifying and volumizing options.
Since the corset you choose can affect how you look and how you feel, it's important to pick a product that is right for your body and your goals. What are the different types of corsets? Here are a few you should know about and what they can do for you.
Underbust or Overbust Corsets
The two main types of corsets most women look at first are underbust and overbust options, and as you may have guessed, the first encircles the waist from the top of the hip to just under the bust, while the second extends up over the bust.
The primary advantage of choosing an overbust option is that you can probably forego a bra, since this style provides lift and support for the breasts even as it slims your waistline. Why choose and underbust style? There are a couple of reasons.
For one thing, you might find bras more comfortable or prefer the separation they provide. Or you may notice some amount of spillage around the back and under the arms when you wear an overbust corset. The best way to pick your preferred style of corset is to try on a variety of products and see when is most comfortable and flattering for your body.
Long-Line Corsets
Long-line corsets are designed to extend over the hips, providing additional coverage and concealment, but they're really only preferable for women who already have a longer torso, so make sure to try before your buy. If you're looking to shape your hips, along with your waist and bust, a long-line corset is your best bet.
Waspie Corsets
Not every woman wants the extended coverage of a long-line option, or even an overbust corset. If waist-shaping is your primary goal, an underbust waspie, which is little more than a wide belt of a corset, could fit the bill. This narrow corset is easy to conceal under clothing or it can be worn over clothes for fashion purposes.
Costume, Custom, and Other Corsets
Why do you want to wear a corset? Some women are merely seeking to make a fashion statement, in which case comfortable, costume corsets will suffice. Others are interested in serious, long-term waist training, for which sturdy, steel-boned products are preferable. If you're going to be wearing your corset frequently, you should also look into custom garments that are going to provide the perfect fit and the most flattering silhouette for years to come.
---
Want to learn more about the different types of corset? Stay up-to-date with weekly blog posts, waist training tips, and the chance to win one of our monthly corset giveaways, like us on Facebook & subscribe to our mailing list today!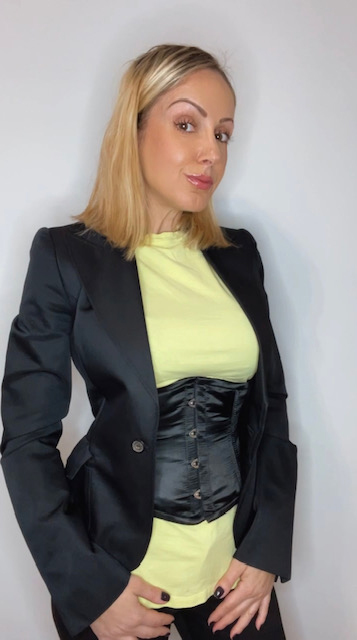 My name is Rachel, I am the owner of Glamorous Corset, a small business founded by me in 2010. Back In 2005, I was in a car accident that left me with a herniated disk. Much to my surprise I learned steel boned corsets were beneficial to several medical injuries including mine. I was always intrigued with corsetry, their history and their beautiful aesthetic. I love sharing knowledge about corsets, educating my wonderful readers and breaking the negative stigma related to corsetry. In combination with my years of research and personal experience I hope my articles are useful and can help anyone who has struggled with some of the same things I have. More about me…