In this video we will introduce our Jolie longline Skull Print Corset. An excellent addition to any Halloween Costume. This corset is versatile and can be paired with any type of clothing to create a fun look for any occasion!
Video Transcription
Hello everyone. And welcome back to our Glamorous Corset YouTube channel.
On today's episode, we wanted to share with you, our Jolie longline corset in this amazing skull print. We decided to make this video today since Halloween is around the corner and some of you guys have been asking for some cool, yet simple Halloween costume ideas.
So, as you can see, I'm wearing just the simple shirt with a little bit of webbing up on top. And wearing a corset and matching it, just with a pair of jeans, creates a fun, yet unique Halloween ensemble. The skull print is very versatile. You don't necessarily need to wear it for Halloween. You can always wear it with black pants, a nice top, and create a very fun look.
As you can see here, the print also comes all throughout the corset. The front, the sides, and of course the back. And it's specifically, currently available only in our Jolie longline corset. This is our 13" long corset, which is typically ideal for a longer torso. It has great hip coverage and also comes up nice and high at the top, so there is no muffin top going on. And will give amazing back support and posture correction if you need that.
Again, guys, this corset can be paired with anything. Especially since you guys asked, like I mentioned earlier, for Halloween inspired looks, you can wear it with a dress, you can wear it with black pants, simply with jeans as I'm wearing here. Pair it up with a nice top or even a tank top or a t-shirt and instantly create a nice hourglass silhouette and create a fun and unique costume for Halloween.
We hope you found this video helpful and hopefully have some ideas on how to make something special and unique with the help of a themed corset. If you have any questions, please reach out to us guys. We're always happy to hear from you.
And please subscribe to our channel and support us. Thank you again. And we'll see you again next time.
---
To stay up-to-date with weekly blog posts, waist training tips, and the chance to win one of our monthly corset giveaways, follow us on Facebook, Instagram, & subscribe to our mailing list and YouTube channel today! Want to find the perfect steel boned corset? Shop some of our favorites: underbust corsets, overbust corsets, corset dresses. You can also shop our corsets by material: cotton corsets, denim corsets, leather corsets, mesh corsets, pvc corsets, and satin corsets. Have questions about getting started with waist training or finding the right size corset? Contact us!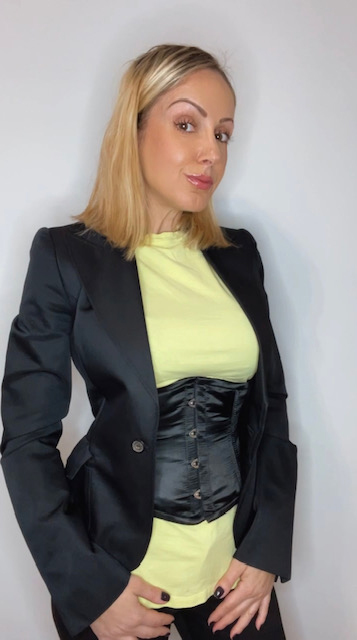 My name is Rachel, I am the owner of Glamorous Corset, a small business founded by me in 2010. Back In 2005, I was in a car accident that left me with a herniated disk. Much to my surprise I learned steel boned corsets were beneficial to several medical injuries including mine. I was always intrigued with corsetry, their history and their beautiful aesthetic. I love sharing knowledge about corsets, educating my wonderful readers and breaking the negative stigma related to corsetry. In combination with my years of research and personal experience I hope my articles are useful and can help anyone who has struggled with some of the same things I have. More about me…