Featured Corset: Dita Denim Blue Jean Corset
There are many occasions in life where the right fit is important – when you're assembling a puzzle, choosing the person you'll spend the rest of your life with, and finding undergarments you can wear all day without suffering wedgies or underarm pinching, for example. In all cases the wrong fit can be frustrating, and in some instances, result in hours (or years) of misery.
While you can't make a puzzle piece fit in the wrong space, and you're better off banging your head against a wall than trying to change someone into the person you want them to be, you'll find that some undergarments can be altered to create a more comfortable fit. What about a corset too small to meet your needs?
If you've ordered the wrong size, you may be able to return it, but what if you've already put time into seasoning your corset for the perfect fit, and now you've outgrown it? A corset too small for your body can not only be uncomfortable, but ineffective. So, can you save some money and alter it to fit once again? The answer is yes, but there are a couple of caveats.
Can You Sew?
If you can barely whip stitch a hem, you might not necessarily want to tackle a much more complex garment like a corset, which feature multiple layers, channels for boning, busks, and form-fitting proportions that must be precise. This isn't to say you can't put in the time and effort to learn the skills needed to alter a corset, especially with YouTube tutorials to guide you through the process, but you'll have to weigh what your time is worth against the cost of simply purchasing a new corset that fits better.
Now, if you're a deft hand at sewing and you've worked with garments before, you may feel a lot more comfortable diving into alterations on a corset too small for your body. If it's just slightly too small, you might be able to get away with little more than sewing in a larger modesty panel. What if the underbust or hip area is too small, or the corset is just too tight all around?
Underbust Alteration
Ideally, the edges of the lacing gap should be parallel to ensure proper compression and support. If there's significantly more tension on the top or bottom edge of the garment, you may not get the waist training results you expect and the garment could warp.
So, if the lacing gap looks like a V (i.e., tighter at the bottom than the top), you may want to alter the underbust. The easiest way to do this is to add gores, or triangular fabric sections, under the arms. You'll need to do some measuring and math to make sure you size correctly, but if you've made garments before, you should be able to figure it out, and of course, there are always online tutorials to help.
Hip Alteration
If your lacing gap is in the shape of an A, instead of a V, it's because you need a little more wiggle room in the hip area. You can use gores here if you like, but you might save some time (and add some flair) by inserting hip ties instead. As a bonus, this will make the garment easy to adjust over time if, say, you gain or lose inches at the hips.
Enlarging Your Corset
TBH, it's usually not a great idea to add full panels to an existing corset. There's always a chance that you're going to compromise the integrity of the garment, leading to fabric tears, warped/bent boning, or perhaps just ineffective waist training. However, if you want to salvage a corset that has gotten too small, this may be your only option.
When to Get Rid of a Corset That's Too Small for You
Altering a corset too small for your body can be a major undertaking that the average person simply doesn't want to tackle, especially with limited sewing skills. Still, you do have another option. If you can find a good alterations specialist in your area, you can pay to have a professional alter your corset for you. The trick is to find someone with experience in corsetry, or at least women's undergarments, and you may not have much luck. In addition, you have to consider the cost. Time-consuming alterations for this complex garment can quickly get spendy, so you need to consider whether you might not be better off simply throwing in the towel and buying a new corset that's properly sized.
---
To stay up-to-date with weekly blog posts, waist training tips, and the chance to win one of our monthly corset giveaways, follow us on Facebook, Instagram & subscribe to our mailing list today! Want to find the perfect steel boned corset? Shop some of our favorites: underbust corsets, overbust corsets, corset dresses. You can also shop our corsets by material: cotton corsets, denim corsets, leather corsets, mesh corsets, pvc corsets, and satin corsets. Have questions about getting started with waist training or finding the right size corset? Contact us!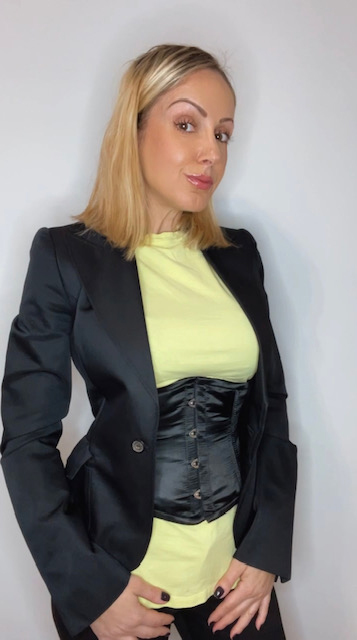 My name is Rachel, I am the owner of Glamorous Corset, a small business founded by me in 2010. Back In 2005, I was in a car accident that left me with a herniated disk. Much to my surprise I learned steel boned corsets were beneficial to several medical injuries including mine. I was always intrigued with corsetry, their history and their beautiful aesthetic. I love sharing knowledge about corsets, educating my wonderful readers and breaking the negative stigma related to corsetry. In combination with my years of research and personal experience I hope my articles are useful and can help anyone who has struggled with some of the same things I have. More about me…