So here we go – Episode two 💕 In this video you can catch Miss Baby Daisy's method too how she puts on and takes off her corset.
Video Transcription
My sexy body. [laughing]
That was so weird. What was that?
Peach kombucha. Kombucha. Is it even Australian?
Hello. Hello. Hello.
Hello beauties. It is me, Miss Baby Daisy. And welcome to my channel.
[music]
Hello. How are we? Right.
We are on Episode 2 of Corset Training with me, Miss Baby D.
In Episode 1, I talked about the importance of seasoning your corset. So, I then went on to season my corset, I wore a daily for one hour. And then, I come to the conclusion. Daisy made a whoopsie. She ordered the wrong corset. So, I went with the JK corset. I thought this would have been well-suited for my body. Turns out, it was too long. And as you can see here, on the left, the extra 10-inch hips springs are just too big for my body.
So, I spoke to Glamorous Corset, and they suggested the Jolie short. And I must say, it is so much more comfortable for me with the shorter torso corset. I feel like I've got more movement. And it's going to be more comfortable to wear for daily corset training. So, yeah, opps, my bad. But on the plus, I now have a very well fitted corset and look how active I am, it's bloody great.
So, don't judge me. I made a whoopsie.
So, yeah. But we have the new corset now. And it's bloody gorgeous.
Glamorous Corset were great at communication and their customer service team were just beautiful to speak too. Very understanding and they just suggested sizing down. So, yes, silly billy Daisy. Whoopsie Daisy.
Moving on. In Episode 2, we will be showing you how I lace up my corset. Basically, how I put it on and how I take it off. I'm going to be showing you a fashion montage darling. I had so much fun filming this. I was cat walking up and down the boudoir, trying on lots of different clothes. I got my rockabilly on. I had some rockabilly tunes on. And it was so much fun.
Yeah, I could chat on for absolute hours. So, I'm just going to clarify what you actually are about to watch today in Episode 2. So, I'm going to be showing you how I prefer to lace up my corsets and how I like to take it off. And also, how I like to style and wear my corset under vintage inspired fashion. Please stay tuned for Episode 3. Hit the bell and subscribe. Yeah.
Let's do it. Okay, so I like to keep the laces extremely loose before I button up the bust. And I do this, breathe in, and swoop motion on my lower part of my stomach. But not the bust, keeping it all loose and neat. Keep your modesty panel as neat as can be.
I then slowly, but surely, start pulling in the laces. I like to start from the outside x's, from top to middle, then bottom to middle. And also, try and keep this modesty panel as neat as can be throughout when lacing yourself up. It's hard when you're doing it yourself. I'm doing it in the mirror here. It does help to do it in a mirror. However, yes, I get it, it's challenging.
Okay, yes, as I say, outside x's. Keep pulling them in. And then get them two loops on the side.
Yes, you basically keep on going, keep on tightening, and adjusting your modesty panel until it feels tight and right. And as long as your corset is seasoned, just keep on lacing up until you feel good to go.
And now, for the lacing up technique. What I like to do is not get caught on the draw, deary me, but cross over and just simply tuck in on the bottom. And what this does is it keeps it smooth when you're wearing garments. At the back, you see there is no bunny ears. You can tie it that way if you prefer to. But this for me, is a lifesaver. It also stays tight all day. It's unreal. I love it.
Okay. Now, you have your corset on. I'm going to show you how I take it off. Whoa.
Now, let's take that bad boy off. So, I like to start just by loosening it. And taking it very slowly. I get it that after a day of training, or you know a few hours, it's going to be very relieving to take it off. However, you want to take your time, and look after the corset, and look after yourself. So, I like to just loosen the laces extremely slowly. Breathe. Take it easy. Look at that, it's like a little cat motion.
And once completely loosened, you can un-bust yourself and be free.
I am going to put two screens up on my YouTube channel and just basically give you a little runway darling of some of my different outfits. I just kind of wanted to show you the difference in accentuating shape when wearing a corset.
I would also just like to say right now, that the shape without wearing a corset is beautiful. I love my body. I love me. Self-love, baby. Every body is beautiful with or without a corset. Okay?
Self-love affirmations of the day, done, tick, complete.
Now, are you ready for the fashion? Are you ready for the fashion?
[music]
My sexy body.
If you would click on that little bell while you're watching this video on corsetry, you know, you know, you know. But yes, stay tuned, click the bell, click the subscribe button, and I will be uploading videos about Showgirl Life, panel tutorials, hair/makeup tutorials, singing songs, doing it all, just being Baby Daisy, unapologetically crazy.
Okay. And I've got to go. I need to watch a show.
Bye, YouTube. I love ya. I gotta go. Hey, Joe. Hey, give it a go. [singing]
Okay. The kombucha has got to my head. I probably not even said everything that I needed to say. What did I need to say? I got to go.
---
To stay up-to-date with weekly blog posts, waist training tips, and the chance to win one of our monthly corset giveaways, follow us on Facebook, Instagram & subscribe to our mailing list today! Want to find the perfect steel boned corset? Shop some of our favorites: underbust corsets, overbust corsets, corset dresses. You can also shop our corsets by material: cotton corsets, denim corsets, leather corsets, mesh corsets, pvc corsets, and satin corsets. Have questions about getting started with waist training or finding the right size corset? Contact us!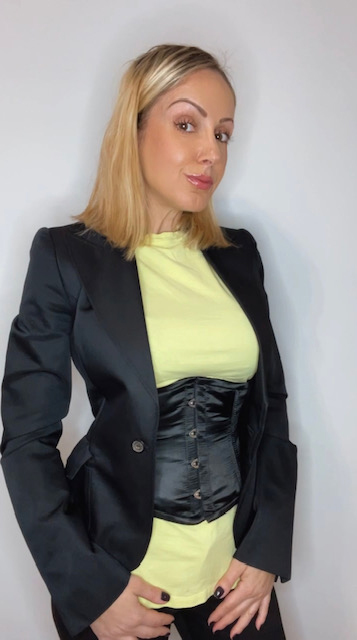 My name is Rachel, I am the owner of Glamorous Corset, a small business founded by me in 2010. Back In 2005, I was in a car accident that left me with a herniated disk. Much to my surprise I learned steel boned corsets were beneficial to several medical injuries including mine. I was always intrigued with corsetry, their history and their beautiful aesthetic. I love sharing knowledge about corsets, educating my wonderful readers and breaking the negative stigma related to corsetry. In combination with my years of research and personal experience I hope my articles are useful and can help anyone who has struggled with some of the same things I have. More about me…