There are certain fashion trends that are timeless, like crisp, fitted Oxford blouses; classic, black trousers; and the quintessential LBD.  Then there are trends we hope never to see again, like mod, babydoll dresses (what are you, five?); leg warmers (why?); Hammer pants (because just what you need is a ridiculously roomy crotch); popcorn tees (one size does not fit all); and acid-washed, neon-splatter-paint jeans (…shudder…).
Where do corsets fall on this spectrum?  They've gone in and out of fashion for centuries, and there are few garments more socially controversial.  There have been times when women saw corsetry as nothing more than a patriarchal means of oppression and times when women bucked social sensibilities by wearing them out of the boudoir and into public view.  How does this classic shapewear measure up in this day and age?
There's just no denying that corsets are enjoying yet another revival, and these days women are using them for all the right reasons – not only to gain control of their bodies, but as a means of female empowerment.  If you're interested in transforming your body and looking and feeling fantastic in the process, there are a few things you should know about the comeback in corsets of late.
Out of the Bedroom and Into the Boardroom
Modern corsets are nothing to be ashamed of.  They needn't be hidden under clothing, relegated to the bedroom, or saved for special garments like wedding gowns.  Not only are celebs wearing corsets in lieu of tops or with nothing but a long tee, but professional women can find office appropriate ways to wear corsets over their clothing.
Waspies can be worn with button-downs blouses, shirt dresses, or high-waisted pants or skirts in place of a traditional belt.  Overbust corsets are also a brilliant replacement for classic suit vests, which never seem to fit quite right.  Can I get an amen from the big-busted ladies?
Even better, these garments can easily transition from day to night, whether you're heading to happy hour after work, hitting the clubs with your girls, or meeting your latest Bumble match for dinner.  Just loosen the laces on your overbust corset, pull off the modest top underneath to bare a bit of skin, roll the cuffs on your blazer, and throw on some flashy jewelry and stilettos.  Voilà – you're ready to paint the town rouge!
Casual Fashion Corsetry
If you just don't feel comfortable wearing your corset openly in the office setting, try dipping your toes in the water by spicing up casual outfits instead.  Haute celebs like the Jenners and Hadids, as well as fashion plate Rihanna, have all been spotted wearing waspies over casual tees, sometimes with nothing but a long tee and thigh-high boots, or simply wearing overbust options in place of a standard top.
You, too, can try your hand at this timely trend by adding a corset to any outfit.  Whether you wear an overbust model with a skirt or wide-leg slacks, you pair underbust options with tees, blouses, or dresses, or wear your waspies like a belt, you're sure to get compliments and upgrade your overall style as a result.
Getting Your Groove Back
Okay, let's just talk for a minute about the effects of aging on our bodies.  Whether you've had a baby and you're waiting for your body to bounce back or you've spent several years neglecting your diet and exercise regimen in pursuit of an education and career, the truth is that you can find yourself fighting the battle of the bulge, and those low-waisted jeans are doing you zero favors (hello, muffin top!).
Hey, we all have issues with our bodies, and even if you're on the right track to tighten, tone, and lose a few pounds, you still have to deal with some pooches and sagging in the meantime.  The good news is that using rigid, steel-boned corsets can help you to slim your waist, shape your midsection, and regain confidence in every area of your life.  It's more than a garment – it's a daily affirmation.
Waist Training
Even though corsets can be used for the purposes of fashion, many women also use them for the more functional purpose of waist training.  Whether you want to slim down a couple of inches for daily wear or you're looking for semi-permanent slimming of four or more inches, incremental waist training can give you the results you want and help you to feel beautiful and confident, no matter what you wear.
---
Stay up-to-date with weekly blog posts, waist training tips, and the chance to win one of our monthly corset giveaways, like us on Facebook & subscribe to our mailing list today! Want to find the perfect steel boned corset? Shop some of our favorites: underbust corsets, overbust corsets, corset dresses.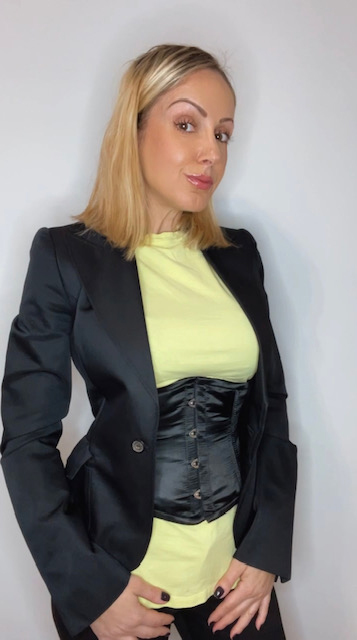 My name is Rachel, I am the owner of Glamorous Corset, a small business founded by me in 2010. Back In 2005, I was in a car accident that left me with a herniated disk. Much to my surprise I learned steel boned corsets were beneficial to several medical injuries including mine. I was always intrigued with corsetry, their history and their beautiful aesthetic. I love sharing knowledge about corsets, educating my wonderful readers and breaking the negative stigma related to corsetry. In combination with my years of research and personal experience I hope my articles are useful and can help anyone who has struggled with some of the same things I have. More about me…