Corsets, by their very nature, are designed to be adjustable and accommodating.  While you're engaged in waist training, you can shrink them down to your desired size.  If you put on a few pounds, you simply loosen the laces to account for added voluptuousness.  Heck, you can even turn them upside down in some cases if you have a larger underbust and slimmer hips.  If only the people in our lives could be so obliging!
You've probably also noticed that some corsets come with garter straps (sometimes referred to as suspenders) attached to hook to your thigh-high stockings and hold them in their proper, upright position.  The last thing you want is your lovely stocking pooling around your knees, so garter straps are an excellent addition to your standard corset.
What about corsets that don't include garters straps?  You can buy them separately, but how the heck do you go about attaching them?  The good news is, even corsets that don't come with garter straps are often set up to add them later on, for your convenience.  Because the loops are designed not to annoy, you might not even know they're there until you start looking.  How can you attach these garter straps to your favorite steel boned corsets to keep your stockings in place?
Attaching Your Garter Straps
When you buy costume corsetry, you might notice that it sometimes comes with four garter straps to attach or remove as you see fit.  With proper, steel boned corsetry, you'll find that there are typically six suspender loops place along the bottom edge of the garment – three on each side for optimal stocking support.
The positioning may vary by corsetmaker, but you can generally expect to find two in the front, two on the sides, and two in the back.  These are just simple, looped tabs that tuck up under the hem when not in use and can easily flip down when you want to attach garter straps.
Once you get a look at your garter straps and the loops on your corset, you'll understand how easy it is to attach them.  Each garter strap has a hook on one end, similar to the hooks on detachable straps that come with strapless/convertible bras.  To attach, you simply slide the hook into the loop, ensuring that it goes all the way through so the hooked end can catch and hold, rather than sliding back out the way it went in.
Proper Positioning
When it comes to the ease of attaching garter straps to your corset, there is one tiny caveat – you have to put them on facing the right direction.  How do you know which direction is correct?  You'll have to look at the clips on the bottom end of the straps, where they attach to your stockings.
These clips usually consist of a metal or plastic hook and a rubbery tab, or button, that slots into the hook.  You'll want to position the tab under the inside edge of your stocking, then slide the hook over stocking and tab to secure it in place.  For this reason, you need to make sure the hook side is facing outward when you attach your garter straps.
What if There Aren't Any Suspender Loops?
As the late, great Douglas Adams advised, don't panic.  You don't even need your intergalactic towel to solve this problem.  If you have basic sewing skills, you can get yourself some sturdy cotton or satin ribbon, cut appropriate lengths, and sew loops into the lining of the bottom edge yourself.  Or if you're worried about damaging your garment or getting the placement wrong, simply visit your local alterations specialist or contact your favorite corsetmaker to find out about having suspender loops professionally added to your beloved corset collection.  Problem solved!
---
Stay up-to-date with weekly blog posts, waist training tips, and the chance to win one of our monthly corset giveaways, like us on Facebook & subscribe to our mailing list today! Want to find the perfect steel boned corset? Shop some of our favorites: underbust corsets, overbust corsets, corset dresses. You can also shop our corsets by material: cotton corsets, denim corsets, leather corsets, mesh corsets, pvc corsets, and satin corsets.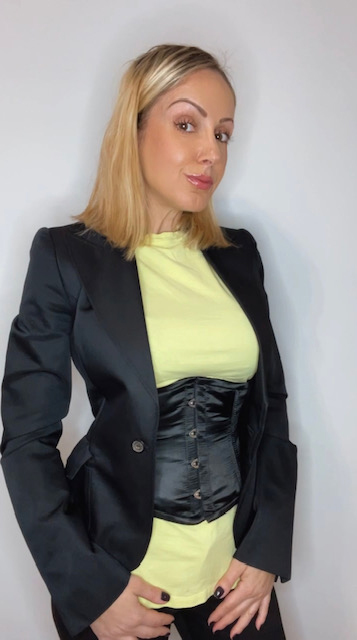 My name is Rachel, I am the owner of Glamorous Corset, a small business founded by me in 2010. Back In 2005, I was in a car accident that left me with a herniated disk. Much to my surprise I learned steel boned corsets were beneficial to several medical injuries including mine. I was always intrigued with corsetry, their history and their beautiful aesthetic. I love sharing knowledge about corsets, educating my wonderful readers and breaking the negative stigma related to corsetry. In combination with my years of research and personal experience I hope my articles are useful and can help anyone who has struggled with some of the same things I have. More about me…